Interested in an insider's perspective to Argentina? Are you curious as to why Evita and Che are either fanatically loved or hated?
Or perhaps are you preparing for a trip to Argentina and wanting a bit of extra inspiration? If so, then this reading list for Argentina is the ideally place to start exploring the country from the comfort of your armchair.
Books can paint a history like no other. They give you an understanding of Argentina's colourful past, its challenges, its culture and why it is the way it is today.
Did you know Argentinian's love to Read?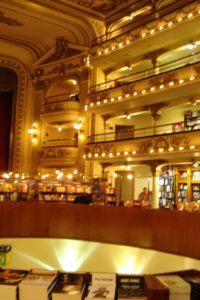 The Argentine's love reading and will be happy to discuss a wide range of the books they might be reading. Which means you'll find bookshops all over the country. One of my favourite bookshops in Buenos Aires is the El Ateneo Grand Splendid Bookstore, an old theatre that has been transformed into one of the most stunning bookshops in the world.
However, if you are looking to buy English books in Buenos Aires I'd recommend stopping in at Walrus Books in San Telmo for a wide selection of new and second-hand books.
Argentina's most talented writers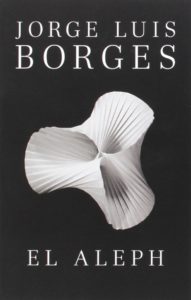 A country of is readers is great, what is even better is the quality of the writers that Argentina produces. It was here that I met for the first time Jorge Luis Borges, and fell in love with his writing.
From The Aleph and Other Stories (Penguin Classics) to his collected library and his short stories and poetry – it's all spellbinding.
His thoughts and work have a multitude of layers both enticing and profound. Every time I read one of his stories I see a whole new layer to it, new ideas and provocative metaphysical concepts. His words and poetry on the suburbs of Buenos Aires that he lived, adds a richness to the streets that assure you'll never see them in the same light.
If you've seen the magic weaved by the tango or the eloquence in a game of polo; it is this same grace and passion that Jorge Borges brings to his writing. A fascinating person and read.
Without the streets or dusks of Buenos Aires, a tango cannot be written. – Jorge Luis Borges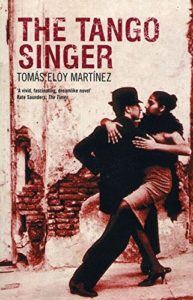 The Tango Singer
Tomas Eloy Martinez
This book captures and brings to life the rawness of energy that is Buenos Aires. You can see this energy emanated in the dance and music of the tango. The heaviness that borders on a dramatic, always serious yet mesmerizing dance between two dancers. And this book, leaves you a little breathless for the city, the tango, for the music, and for life. At the end I couldn't believe it was a story, it was so real that I could only believe it to be true. It's not. It is fiction yet it's so captivating you can't help but wish it to real. The perfect book whether you love the tango, exceptional stories or Argentina. Buy the book or find out more about it on Amazon: The Tango Singer
Santa Evita
Tomas Eloy Martinez
This is fiction rather than being a biographical account and written by an Argentine living abroad. Which may grant him a little more creative license than if he were living in Argentina. It doesn't stop this book from being both a compelling and intriguing read. I have read a few books on Evita, and like Che, you either like her or you don't. The reality is that there is not much information available as Evita Perez. Evita, herself either omitted it or changed it, to suit the picture she wanted to present to the world. This book and period in history shaped much of modern Argentina – and hence a great read.
Buy or find out more about the book on Amazon: Santa Evita
Che Guevara: A Revolutionary Life
John Lee Anderson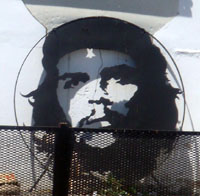 Che is either loved or loathed, and you'll get a very different point of view on why depending on who you ask. Best idea is to read a biography and then make up your own mind. This particular biography is no doubt the largest, and most in-depth. It is one of the few books written in an 'attempted' unbiased fashion.
The book is so big and heavy, that I recommend you read it before you go or while living in Argentina, it's will not fit in a backpack.
There are points of history that were new to me, and rarely mentioned in our history books. To me, despite whatever he did I admire Che. He fought for his beliefs, took action where others dare not, gave his life to a higher ideal – in wishing for a better world for all. He saw and understood first hand what the American placed dictators were doing to Latin America, and took steps to create change on a larger level.
For me he remains a poetic hero, fighting for justice in a rather unjust and corrupt world.  For anyone who wants to get to know the man behind the story. You can read or find out more on Amazon: Che: A revolutionary life
For those interested in more information on Latin American History, on the whole, I highly recommend Open Veins of Latin America. A real eye-opener as to the use and abuse of the resources and people in Latin America. A glimpse of why Che did indeed lead a revolutionary life.
Further Famous books already well noted, and written about that are also worth a mention on this reading list are:
Reading List for Argentina
So, whether you are planning or dreaming about Argentina, it is worth reading up on its literature. Take the opportunity to see the city of Buenos Aires through the eyes of Borges.
The tales in these books are so well weaved that you will see the city and country in ways you had not believed possible in such a short time. You will feel as though you've walked the streets. Had the tango dance a beat on your heart and a touch of revolutionary spirit will stir your soul.
Books can unlock a richer experience of a country, a view behind the veil, let these well-written books on Argentina be the key.
*Image credit for books, big thank you to Alfons Morales on Unsplash