Bored and looking for a new way to Travel?
Do you ever get the feeling you've traveled so much, that you are starting to get a little blasé? Do your eyes glaze over when someone mentions going to yet another church or museum?
Would you prefer a deeper insight into a country? What makes them different or the same?
Wouldn't you love to take an authentic local experience and memory or skill to take home with you?
Is this at all possible without learning the language?
I am here to tell you it is, it's affordable, insightful and a whole lot of fun. It's Educational Travel.
Where common interests coincide:
At some point, we've been there. Traveling through cities and countries with a checklist of places to see, and things to do.
After a lifetime of travel, what I now want is an experience; an experience of the country, it's people and it's culture.  I want an experience that I am not going to get on a tour, through a pamphlet, or an endless array of churches and museums.
Oh, and of course I want this experience to be memorable. So, that I don't confuse it with all the other trips I've been on.
When I decided to travel to Thailand, I wanted to travel differently.  I wanted to learn and understand the culture.
Ask yourself before you next trip; what are your interests?  History, cooking, painting, weaving, knitting, photography, art, stained glass, cycling?? Or is it something else.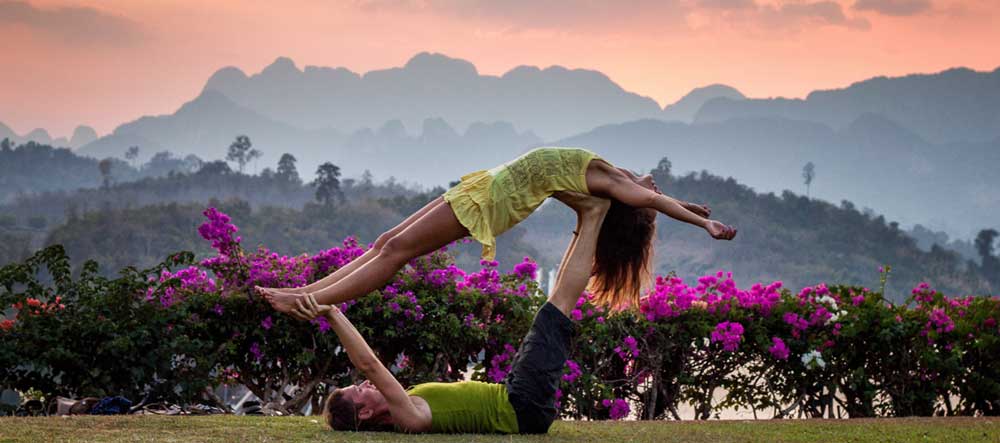 Studying Thai Yoga Massage in Thailand
Thailand is more than incredible food, the whole culture is fascinating. From its religion, its arts through to its concepts on health and well-being.  With the opportunity to stop there on the way to Australia, I decided to study Thai Yoga Massage in Chiang Mai:
I choose to do the four-week course at ITM (International Thai Massage) School. A lovely well-organized school. They had a good mix of teachers and were thorough in their approach, tests, training, and practice.
I have to say it wasn't a walk in the park, there was a lot to take in, especially as it was only four weeks.  There were a few hours of study in the morning then practice for the rest of the day.
It is hard to research the right school before going to Thailand. If I had to do it again and I had the option, I would go there to see each school and decide from there. It is hard to choose without seeing it.
If you are looking to practice whatever you learn (ie. Thai Yoga Massage) abroad in your own country. I recommend that you check that the school meets your countries professional standards.
You can check either find this on the school's website as here at ITM's. Or double check it with the regulatory body in your home country.
One of the benefits of studying at ITM is that has international standards. The largest benefit was the cost. I could study all five levels, eat, stay in a lovely bed & breakfast for the same cost as one level in Australia.
While in Chiang Mai I also met students from the Sunshine Massage school. which they spoke highly of, and it another option for you to consider.
I found Master Sinchai in one of my last weeks in Chiang Mai. I actually went to him for a massage but ended up studying with him every night for a week.
He is an incredible teacher despite his blindness. I learned many other simple but effective massage techniques from him. He and his lovely wife earned a very special place in my heart.  www.sinchaimassage.com/
Thai Cooking with a side of Buddhism
While eating dinner at A Taste of Heaven, I noticed they offered cooking classes and signed up. A Taste from Heaven is one of the best vegetarian restaurants in Chiang Mai and was keen to learn how to cook what I was eating.
It was a treat to find on the day that I was the only person on the course, and my teacher Bob (fictional name to hide his true identity), was an ex-monk.
This meant that I got to ask juicy questions on monastic life, all while learning to perfect a green curry. Sorry to say that the secret ingredient in the curry was sugar.
It was strange to consider what it would be like to be a monk and then enter the workforce. What would it say on your resume? What skills would you have to help you get by in everyday life? Cooking it seems is one of them.
Oh, and Bob's secret to youthful skin, considering he looked
20
but was in reality much older than me. He told me how his face relaxed after he started practicing the long form of meditation, which is more than 4-6 hours per session.  I've added this to my
to-do
list, for my next time.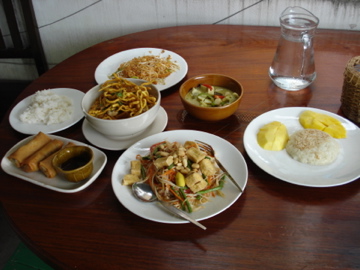 I loved every minute of it, I couldn't recall the last time I was this happy! Thai food is my favorite, although I never actually cook it due to its complexity. So, to have the opportunity to make it myself, and then eat it all was incredible… at times life can be so sweet.
I got to pick my 6 dishes from the extensive menu. I chose all my favorites; Green Curry, Pad Thai, Sticky rice with Mango, Kao Soy, Spring rolls and Papaya Salad.
In all honesty, my own Kao Soy was the best I tasted during my entire 6 weeks in Thailand – as you get to cook it the way you prefer it.
It was so much food, I felt that I would explode and die from gluttony, but I would die happy. I gave a family begging outside what was left. Not sure what they made from Thai food cooked by a foreigner. I certainly hoped they enjoyed it, as much as I enjoyed making it.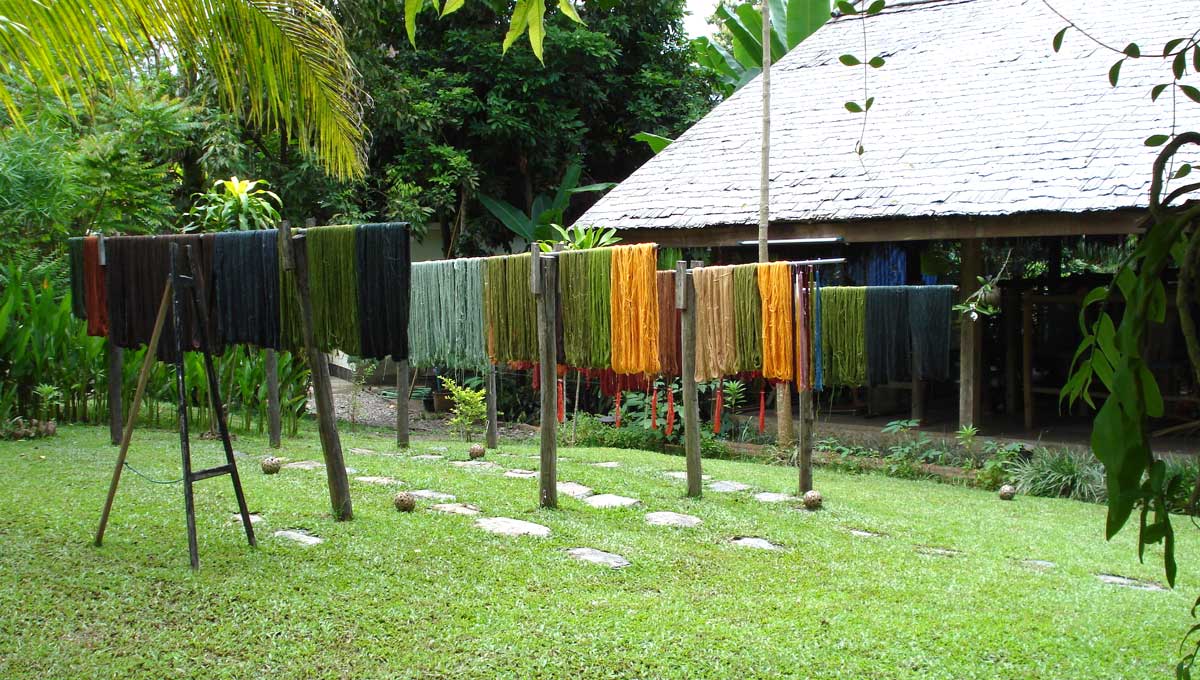 Ock Pop Tok. Discovering Laos Through Textiles
While in Northern Thailand I hopped over the border and spent a few days in Laos.  The moment I saw that I could do a day's workshop at Ock Pop Tok, I signed up.
The workshop included silk dyeing using natural items such as bark, nuts, and leaves. We learned about the process of the making and spinning the silk. To finish off the day we also had to the opportunity to weave our own small placemat.
Needless to say, I loved it! Now you might think that the dyeing is the easy part, but looks can be deceiving. The nuts I wanted to use were high up in the tree, so I also got to experience the joy of trying to get them down. This was no easy feat!
Although in retrospect the dyeing was the easier part of the process, the weaving is where it got tricky. While I choose what looked like the simplest version of the pattern, it still took hours to make. That included a few mistakes along the way. This was not without serious elbow grease.
At this point, I also need to confess that one of the girls jumped in and helped me finish my mat. Luckily, otherwise, I may have been there until long into the night.
Since doing the workshop I see the silk garments in the shop in a whole new light. I will never think of them of expensive nor barter over the price. The talent, the creativity, and work that goes into each piece is extraordinary.
The women here start learning these skills at a very young age and are likely to do this work all their lives. The work is generational and is passed down from mother to daughter. This close family structure makes for a great atmosphere within the workshop.
Everyone works side by side, laughing and talking as women do.
Ock Pop Tok can seem a little pricey considering the prices in Asia. I would ask you to keep in mind that it practices fair trade, ethical and sustainability. In other words, it is not a sweatshop and the women earn their worth. They support economic opportunities for rural artisans though village weavers projects. And work to preserve the weaving education, history, and culture.
This is the type of responsible tourism that we need to be supporting, as it doesn't exploit local labor. It actually supports them, their families and their villages.
At the end of the day, I was very proud of my hand dyed skeins of silk and the mat I got to take home. I recommended Ock Pop Tok if you ever find yourself in Laos and looking to do a little educational travel. It's a great place to learn a local skill and have a taste of cultural immersion and support local women. www.ockpoptok.com
Curious About life as a Monk, Join a Monk Chat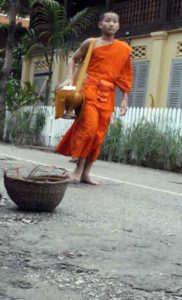 While Monk Chat isn't a course per se it falls under educational travel. Why, because it offers you the opportunity to sit and chat with monks. The deal is that they get to improve their English, and you get to learn about life as a monk.
I have to say that I learned more in sitting with 2 monks for over an hour than I ever learned in any zen book I'd read.
Most men in Thailand will have spent some time as a monk, it brings good fortune to the family. It also eases the costs if a boy can study at the monastery.
It is also the hope that it may put wayward boys back on the right track. This explains the monks I saw with street tattoos smoking.
The two monks I chatted too were studying at university and were hoping to study abroad. They explained why they couldn't or shouldn't speak to women and talked to me about their dreams. The lad from Sri Lanka told me of the issues there.
What I got most of my few hours in their company was how alike we all are. Full of hope, dreams, and aspirations all while surviving the day to day in a tough world.
The image that we get is one of solace and enlightenment. Yet they also need to get up each day and brush their teeth and do dishes.
You can find monk chat at a few places in Chiang Mai. I went to the one at Wat Chedi Luang temple. Which is on during 9 AM- 6 PM most days. There is a seating area where monks will sit if they are interested in a chat, you can go up and join them.
You may want to check with where you are staying for the most up-to-date location and times.
Phra Farang: An English Monk in Thailand
is a book that I was reading during my travels in Thailand.  Curious on what it would be like to be a foreign Buddhist monk? This sensitive yet hilarious read is just that.
Planning your Next Trip
Try your hand at learning something new.  It gave me such perspective on the amount of work that goes into their craftsmanship. If you choose the right place you are not only gaining a local immersion but also supporting local artisans.
You'll often get to chat with a local and learn more about the elements of their culture that you won't find elsewhere.
Now I don't often cook Thai at home, and I'd rather turn a blind eye to the sugar content I was unaware of.  My trip was one of the most memorable travel experiences that I've ever had.
I now go out of my way to see what I can study and learn locally.
Is there something you've been itching to learn while abroad?  Go and do it now, there is nothing quite as satisfying as knowing you made it or can do it yourself. Even if you end up buying the product afterward 😉
The Yoga image is thanks to Ruslan Zh